Initial Setup
Set up Perusall as an external tool in Moodle by navigating to Site administration > Plugins > Activity modules > External tool > Manage tools, and then select Configure a tool manually. In the resulting window, enter your key and secret along with the following settings (if you'd like to copy and paste the Tool URL, it should be https://app.perusall.com/lti/launch):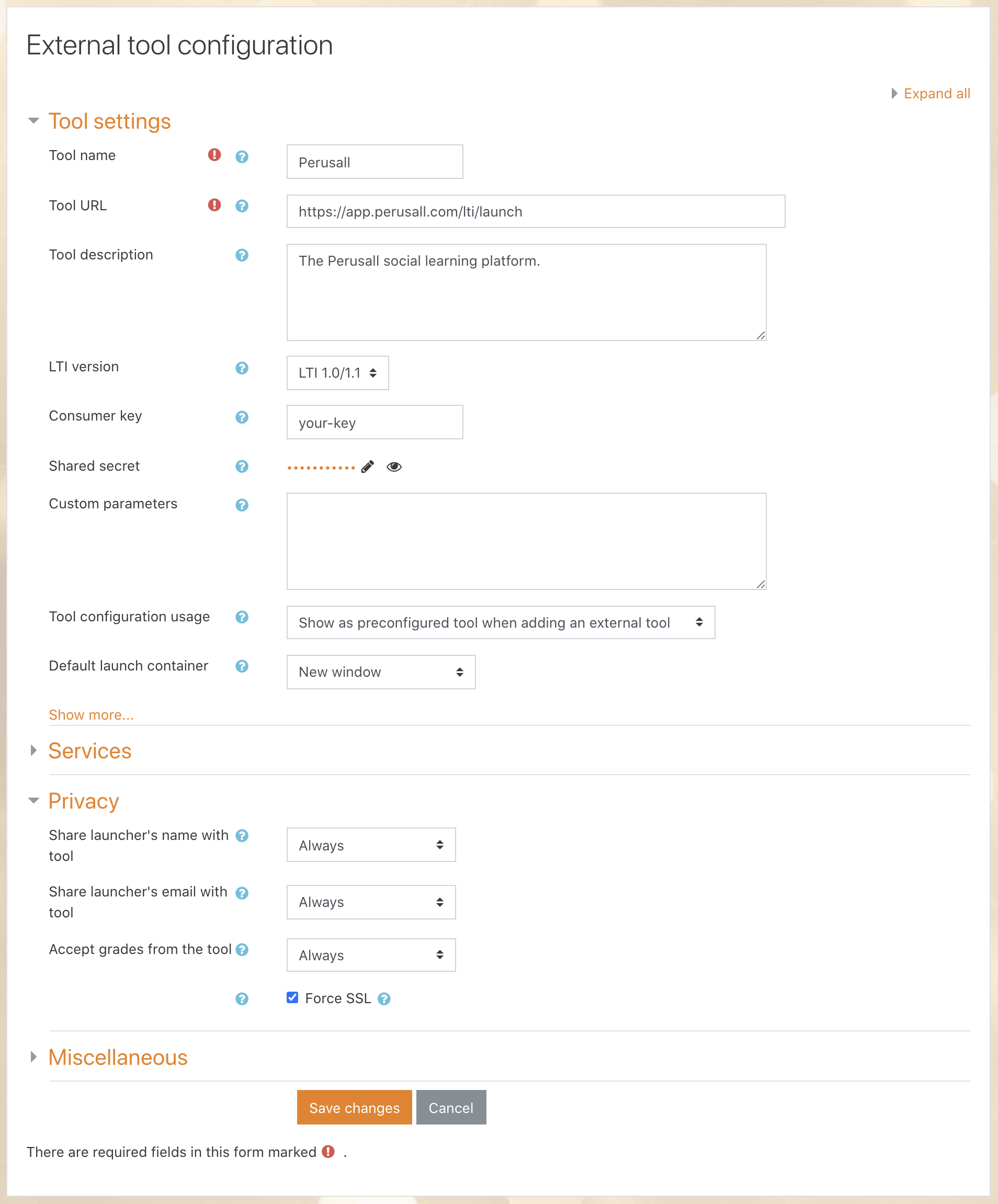 If you do not have a key and secret already, contact Perusall Support from your official university email address to retrieve your institution's key and secret. (For security verification purposes, provide Perusall Support with a link to an institutional web page that shows your name, email address, and title/affiliation.)
Then add a Perusall link to your course by turning on editing and selecting Add an activity or resource and selecting the External tool type. In the resulting window, enter Perusall (or anything) for the activity name, and select Perusall from the dropdown Preconfigured Tool list. When you launch this link for the first time, Perusall will create a course for you that is connected to your Moodle course.
Video tutorial
Setting up assignments
To enable grade sync, add Perusall links to Moodle that map to assignments in Perusall. For each reading assignment you create in Perusall, add the Perusall external tool to Moodle again; to link to the proper assignment in Perusall, make sure that the name of the link in Moodle exactly matches the name of the assignment in Perusall. To retrieve the name of an assignment in Perusall (Perusall assigns names automatically when you have not explicitly given an assignment a name), select it in the Assignments panel on your Course home page in Perusall, and then click the Copy full title for LMS button in the toolbar. The assignment name will be copied to the clipboard, and you can paste it into the name field in Moodle.
To test that the assignment linkage works, launch the assignment in Moodle and ensure that you are taken to the correct assignment in Perusall -- you should bypass the course home page in Perusall when clicking on a Perusall assignment from Canvas.
Note: To ensure that grade sync works throughout the semester, make sure that students access each Perusall assignment by clicking through the corresponding assignment in Moodle. If a student accesses an assignment in Perusall without clicking through the corresponding Moodle assignment at least once, then Perusall will not be able to send that student's score back to Moodle. (You may want to remove the generic link you set up in the previous section -- or hide it from students -- to ensure that students always access the Perusall assignments through the corresponding Moodle links.)